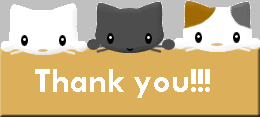 This morning we logged into Blogger to discover we now have fifty, that's 5 0 followers! When we first started blogging about our day to day lives we never imagined that we could have so many followers or met so many wonderful
furiends
!
We never imagined that anyone other then family would be interested in what we get up to.
We would just like to say thank you to all our followers and
furiends
for making us feel so special!
Also we received this wonderful friendship award from King, Pandora and Skeeter over at
The

Kool

Kittie

Krew
.
We would like to pass this award on to all of our wonderful blogging
furiends
, without who, we wouldn't be blogging!
Thomas O'Toole, Charlie
O'Marley
and Lola
Fannola
x