We're happy to report that our heating is now working and everything is toasty warm. There was a worrying moment when the heating shut off and mum bean had to reset the boiler, but everything seems to be working fine now.
We have another award so show you all, the Showing Some Love Award.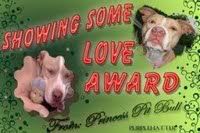 This one comes from our good furiend Ginger Jasper. We would like to show some love and pass this award onto all our blogging friends!


Also today a small packet came in the post and even though it didn't smell of nip or noms, mum said it was for us. It contained our new brass identity tags which have our names, telephone number and our v-e-t-s number on just in case. They look very fetching hanging from our collars and now mum feels so much better about us being out and about, knowing that if we do get lost or there's an emergency she can be contacted. We're all microchipped, but mum bean feels better that we have some form of ID tag on us at all times.

Speaking of being out and about, do you remember when that mysterious kitty portal to the outside world appeared in our backdoor?
Well, Thomas has learnt how to go out through the kitty portal, but as of yet hasn't figured out how to get in. We'll keep you posted!
Thomas O'Toole, Charlie O'Marley and Lola Fannola x