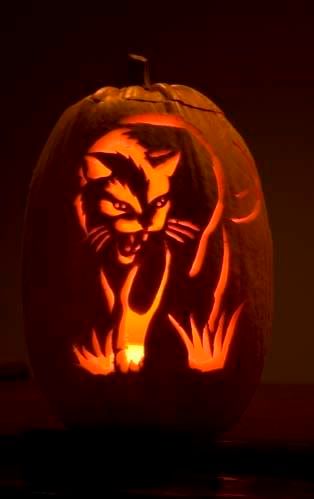 Cool Jack-o-lantern, huh?
As the days grow shorter and the nights colder, we have been forced to entertain ourselves in doors. Unfortunately due to the nature of 'in doors' there are very little hunting, prowling and pouncing opportunities to be had. But we believe that we have found away around this minor inconvenience.
A great new game called Trip Up. The object and rules of the game are simple enough. It involves tearing around the house at break neck speed. Points are earned by 'tripping up' or knocking down your humans. Points are also dependant on the type of 'trip up', injury caused, noise the human emits at the point of impact and of course the vulnerability of your chosen target.
For example more points will be awarded for knocking down smaller humans, humans at the top of stairs and of course humans currently transporting valuable goods (should these goods be noms then you're on to a winner).
Participants should also avoid capture during play, should you be caught and ejected from the building then you're effectively 'out' of the game. The use of teefs and claws are not permitted, except in extreme circumstances.
We hope you enjoy playing Trip Up and you have a great Tuesday!
Thomas O'Toole, Charlie O'Marley and Lola Fannola x